February 5th, 2014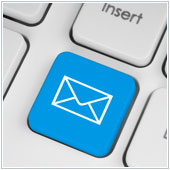 Email is one of the most vital ways businesses communicate. You need to have time to check your emails throughout the day and often to respond quickly so that you don't come across as rude to the message senders. The problem many business owners face is that they have too many emails to communicate effectively. One thing that can help is to create a system that will aid in you in optimizing email handling by following our top five effective tips.
1. Turn off email notifications
Notification sounds are helpful in letting you know you have received a new email - important or not. However, they can also be distracting if you're trying to concentrate. To avoid this, turn off new message notifications on both your Smartphone and computer, and schedule a convenient time to check and respond to your emails instead. This will not only improve your organizational skills, but will also give you peace of mind that you are focusing on tasks without neglecting your inbox.
2. Schedule when to check your emails
Unless your work demands replying to emails instantly, checking emails can be scheduled to a specific time of the day. You don't want to live in your inbox the entire day, just checking the emails you receive as this can seriously harm your overall productivity. According to studies, a person takes about 64 seconds to recover from email interruption, a minute you could have spent on a more productive task.
Read more.