October 15th, 2014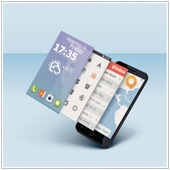 Business has become a much more mobile affair, thanks largely in part to the various mobile devices and operating systems currently available. These systems all rely on apps to operate and there are a near limitless number of apps, that business users can benefit from. To help, here are five of the most common types of apps business users install on their devices.
1. File creation, management, and collaboration
Many small to medium businesses are implementing cloud-based document systems. These systems enable easy file creation, storage, and collaboration between users in the office, coincidentally they also have mobile apps.
Read more.