February 5th, 2014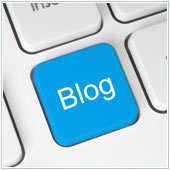 Marketing is one of the most challenging aspects of business that companies face. One has to be constantly evolving and trying out new ideas and strategies in order to remain successful. Many businesses start with a website and social media platform, so that they can interact with customers and clients and create business relationships. While these can be effective, there is one really useful marketing tool that shouldn't be forgotten - the blog.
Define business blogging
When we talk about blogging, most people ask two questions: "What is blogging?" and "Is business blogging any different from personal blogging?"
Read more.