March 24th, 2015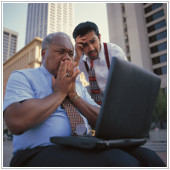 Have your IT problems become chronic? Is your break/fix contractor hanging around your office so often that he's on first-name terms with the maid? If you're starting to think about an alternative IT solution that can clear up your chronic IT issues for good, Managed Services may be just what you've been dreaming of. Even better, they could just prevent your ultimate IT nightmare from coming true.
The ultimate break/fix nightmare
Your business is running smoothly. Profits and staff productivity have been up, and you haven't had a single IT expense in months. Times are good. You kick back in your leather chair and break out that Cuban cigar you've been saving for just such an occasion.
Read more.